Gold Line Redesign
This is a product line redesign for the Gold (Premium) line of infant formula products. The goal was to retain recognizable elements such as branding icons and stage colors while creating a new and vibrant series of packages to catch the eye.
Ultima Platinum Design
A new line of Ultra-Premium formulas was released in 2016 using Platinum to signify a step up from the established Gold line. These designs had to tie back to their predecessors while signifying an upgrade in quality.
Original Line Concepts
A standard base-line product series, here envisioned in both can and carton form, designed to keep with the architecture of the more advanced formulas. The bold color choice was after substantial research showed that the products most likely to occupy neighboring shelf space were white.
Baby Connectome Project Logo
This logo was commissioned by the NIH (National Institutes of Health) for a project to advance the understanding of brain development in infants and young children. There was a great deal of careful coordination between internal and external agencies needed to deliver a finished product that pleased everyone involved.
Kid's Milk Tetrapack
The Tetrapack was a challenge on every level – from engineering a new package through the design phase and finally working with a new type of Flexo printing. I was involved in every stage of its production from concept to completion.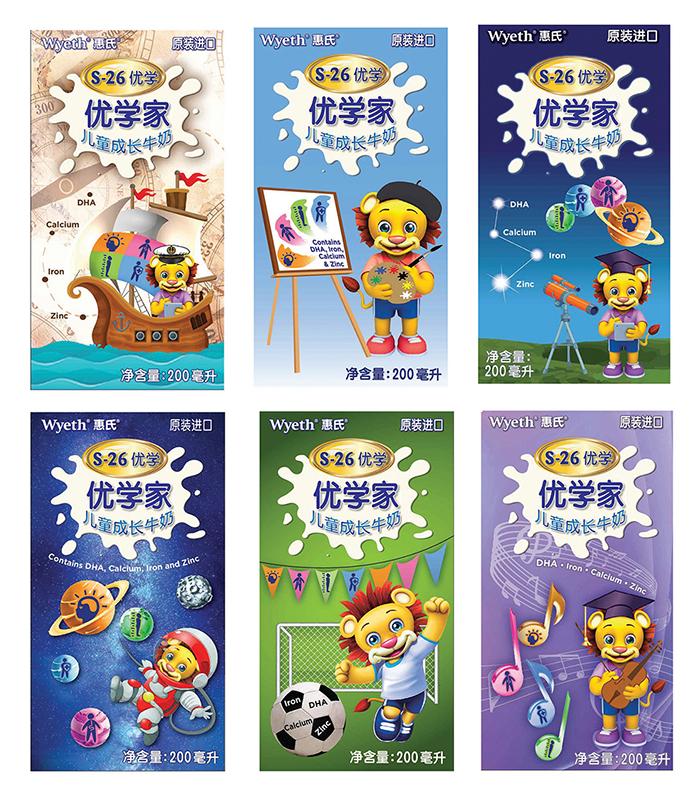 Tetrapack Conceptual Artwork
At an earlier stage in the design process I drafted this series of packages showing our iconic lion Bill doing a range of activities promoting learning, growth and creativity. I had the added pleasure of finding a way to incorporate the four Active Benefit icons thematically into each one.
Product Positioning Posters
These oversized posters, created for the reception area of the main office, were originally intended to be solid blocks of informative text, but I created this more colorful series, which was ultimately chosen. My challenge here was to make the information more graphically interesting while not overdesigning it with clutter.
Organics Lines
An exercise in what our existing product lines would look like if there ware to be an organic alternative version of each. At present two of these designs are now in production.
Organic Flag Violator
A simple, unobtrusive violator was needed to differentiate the standard products from the Organic line. The design on the left is what appears on the packages today with some earlier concept designs on the right.
Baby Expo Ad Campaign
This campaign was designed with modular elements that could be resized to fit a number of different types of ad spaces from a magazine quarter page to the back of a bus (not shown to scale). The goal was to convey a direct message in a simple but stylish way in order to attract the attention of expectant mothers and new parents.
BCP Enriched Logo
This logo was created for the Clinical Science group for use internally. The challenge was to create a single icon showing how a brain grows and forms pathways and the importance that feeding, microbiota, genetics, and home environment have on them.
Promama Maternal Formula
An initiative to create a maternal milk supplement for prenatal use. The ultimate design that was chosen reflects heavily on the pre-established designs of the infant formula packages.
Illuma Farm Concept
Another new branch in the Ultra-Premium line is a series of containers boasting farm-sourced ingredients. The challenge here was to create a container with metallic areas, some of which were flat and others finished with a shiny varnish.
Corporate ID Kit
This group of items was created to establish an identity for a fledgling game company. Using their brand colors I designed a whimsical logo and incorporated it into a variety of media elements.
Illuma Formula Upgrade Icon
A new icon showing the presence of certain formula upgrades was created for the Ultra-Premium line. The icon had to be modular to show the presence of one, two, or three upgrades as needed. The final design is shown here as several earlier drafts.
Connect to WIN Logo
An internal logo for use by the Wyeth Infant Nutrition group. The parameters required the logo to be simple so that it could print very small and that it use the the approved colors of black and Wyeth red.
Materna Stickpack and Carton Design
This initiative involved creating designs and iconography for a new line of single serve packets as well as a carton that could double as an in-store display case for them. This project required cross-coordination with several markets to achieve a consistent design.
Nutrissentials "BAB" Icon
The Brand Active Benefits icon is a visual representation of what consumers can expect from the product and is placed prominently on the front panel. The final version is shown here along with several earlier drafts.
Nolan Logo
Nolan is a product for older adults who need assistance with deteriorating brain function. As such, the logo had to be soothing, look both scientific and friendly and hint at the product's ability to re-forge neural pathways.
Scientific Illustration
One of a series of illustrations created for R&D showing the maturation of T and B cells in the human body. This was for a presentation and had to follow the flow of the speaker's talking points while remaining visually interesting.
Baby Gro Logo
This logo was designed for a clinical research trial and needed to convey growth and nurturing while still retaining a scientific feel. After several rounds of changes, the "cradling hand" concept was unanimously decided upon.
Group Sounds CD Cover
This is the exploded CD cover for a retro-style album of Japanese group sounds done for Tokyo No Records. The style needed to convey a 60's/70's era feel while not directly representing the musical style of any one band featured on the recording.
Group sounds CD booklet
This is the liner booklet that accompanied the CD from the previous slide. Each page featured a different band and the design reflected each band's musical style.
Clinical Dashboard Interactive Dials
These interactive dials were designed for use by the clinical research team to show the status of their projects during presentations. They are easily manipulated in Powerpoint so that a presenter without graphics software expertise can control them on screen.
Phospolipids Interactive Illustration
This interactive illustration details the process by which impulse signals travel through the brain. The research team needed something that was visually both pleasant and accurate and that could be easily interfaced with.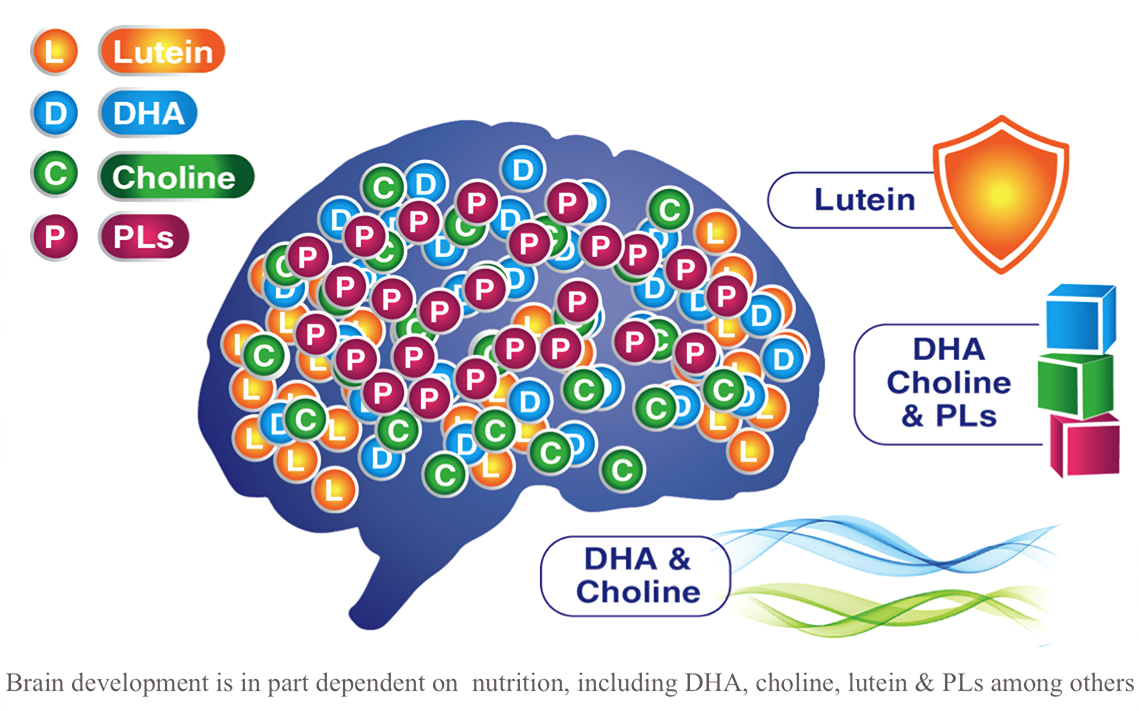 Interactive Brain Diagram
Another interactive piece designed for presentations, this brain shows all of the areas impacted by the selected nutrients. The design had to be bold but straightforward so that the information could be absorbed quickly but would still have a visual impact.
Morimoto Take Out Menu
Utilizing the brand's sleek style and a color palette based on it's interior design, this menu was crafted so that people could feel like they were taking a piece of the experience home with them. It also gave me the opportunity to create a fun logo that slyly hints at the shape of a fish.
WN Rebranding Logo
A rebranding initiative in which the function of the entire group could appear under a two letter banner. These concepts focused on the entity being corporate, scientific and global.
Montgomery Publishing Travel Page
The travel section of the newspaper was always an interesting space where I could play with composition and layering. This page was full of life and texture and captured the excitement it was intended to convey.
Professional Design Portfolio
In my twenty plus years as a design professional I have had the opportunity to work with a large variety of clients with a vast array of design challenges to solve. Here is a sample of some of my more recent accomplishments as well as some of my more diverse pieces.
That's right, this is the Formal Page.