Creature
T-shirt illustration
I tried to give him enough of a twist to avoid copyright infringement? I hope so. That's how they got away with it in "Monster Squad". Now if only I can come up with a line as awesome as 'Wolf man has gnards.'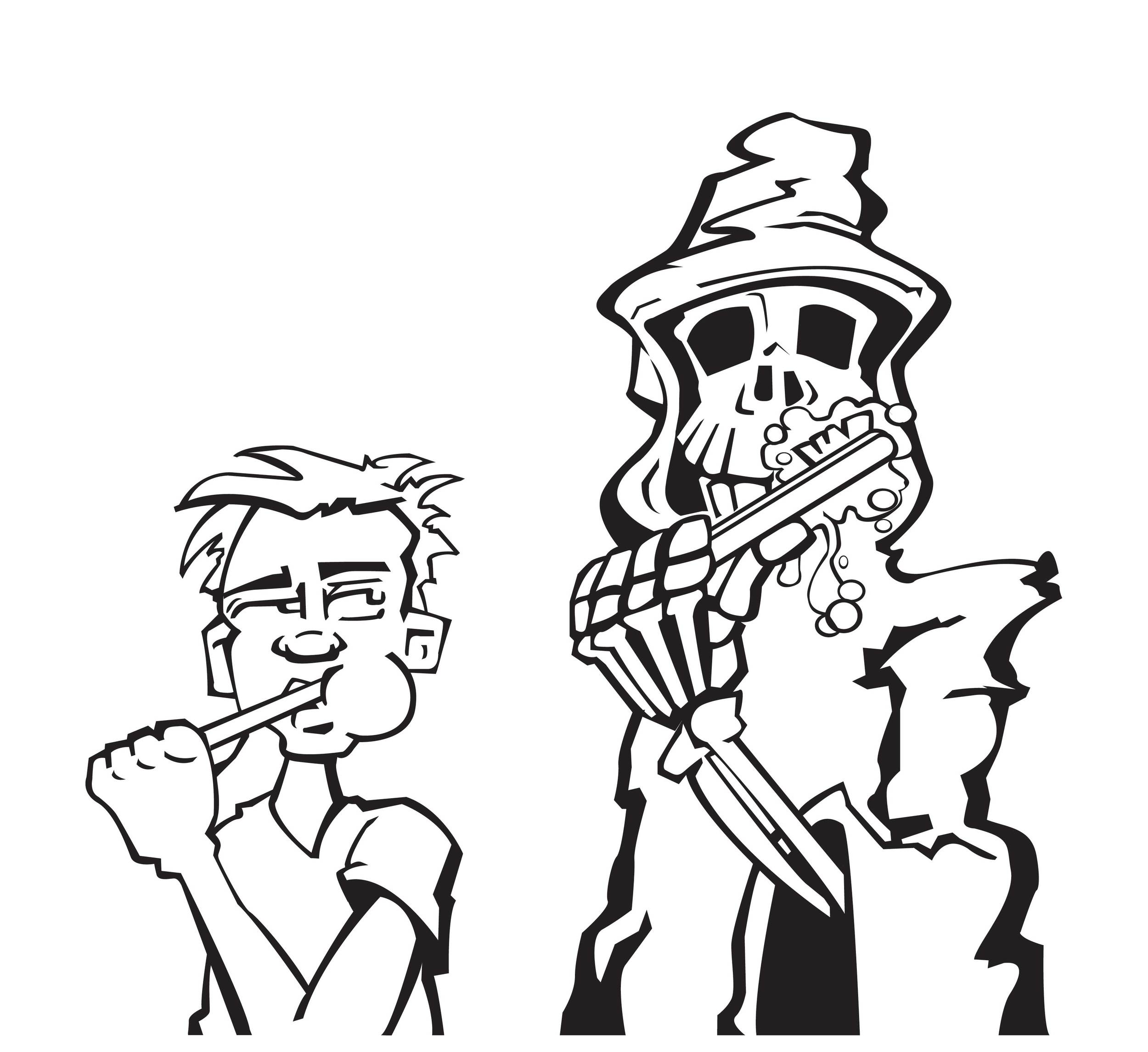 A brush with Death
Yep.
Litteral Larry at it again.
Flaming minotaur
Video illustration
Not all monsters are more awesome when they are on fire, but it seems to suit the mythological ones.
The Knick-knack Shack
Book illustration
Page frame illustration of a young man picking through all the wonders of a grouchy old man's shoppe.
Rom Com Poster
This one is kind of hard to explain.
It occurred to me that these two characters have a lot in common: both are undead, both want you to drink their blood, and both of their power bases come from brainwashing a legion of followers. So it seemed only natural that they would have that love hate dynamic so essential to a rom-com.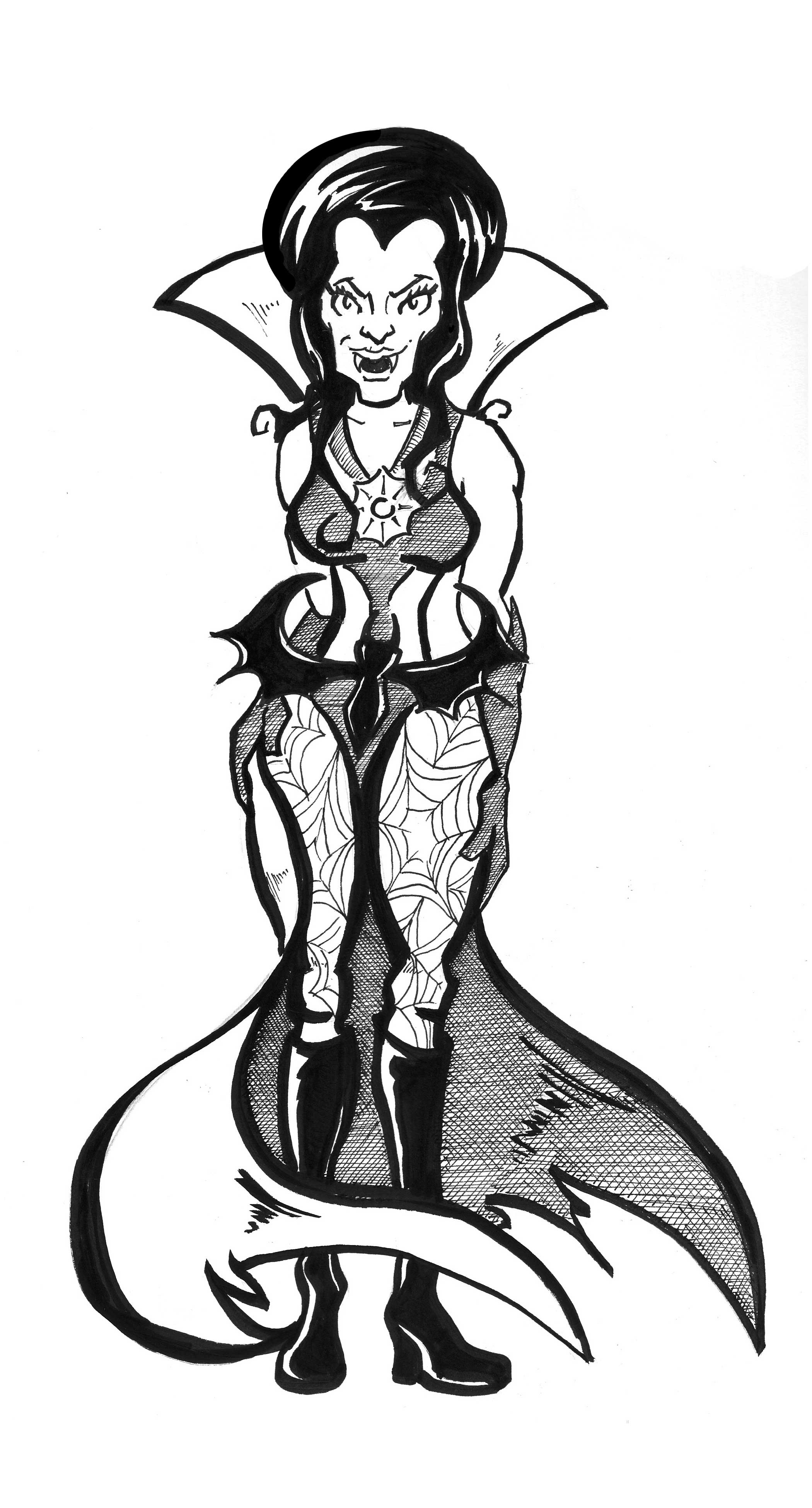 Drag monsters - Dracula
Can't have a series of famous drag monsters without Dracula... or is it Dragula? This whole series was done as a sort of bonding exercise. I like monsters, my boyfriend likes drag. This was just my way of melding our two weird little worlds.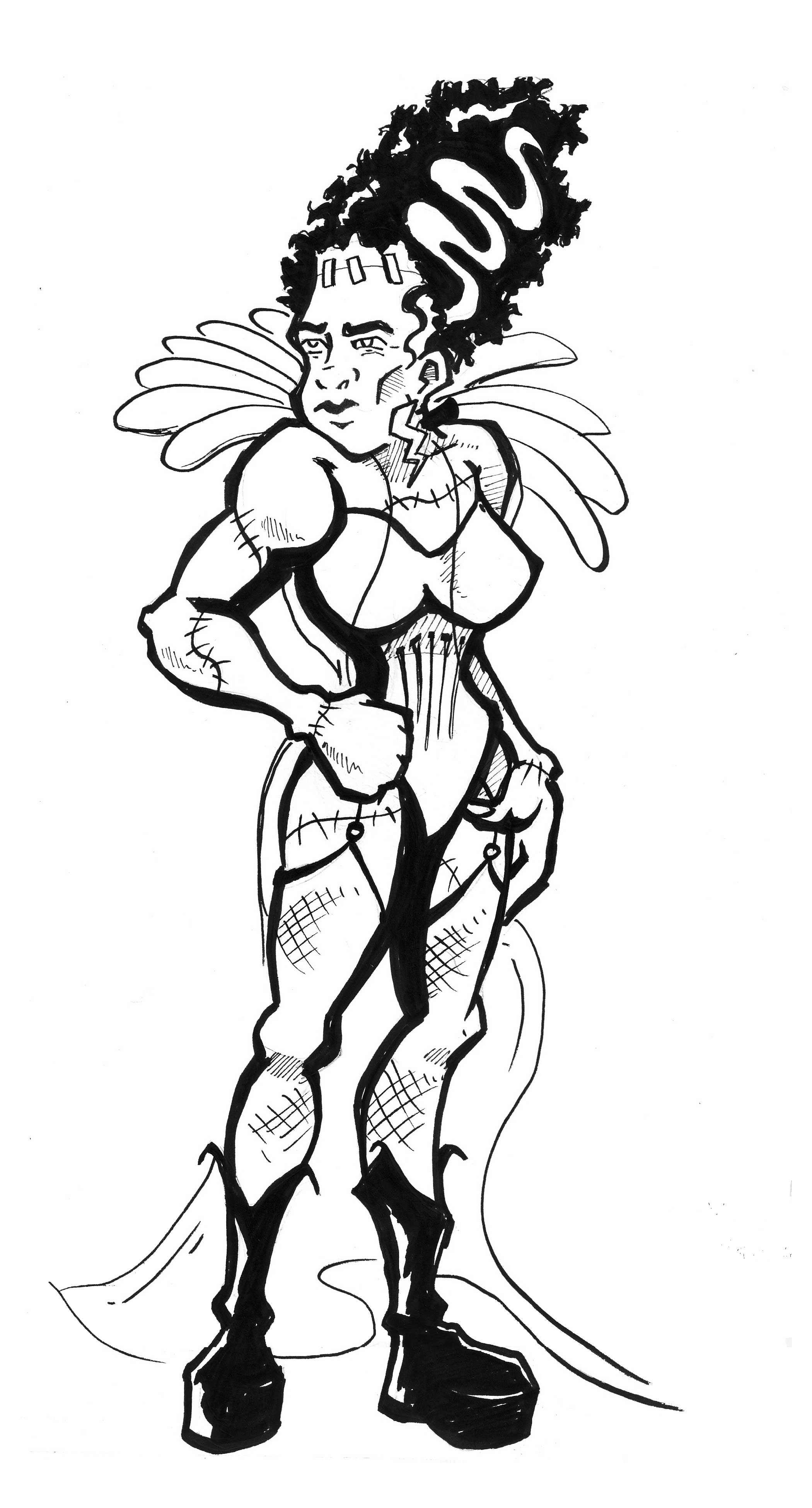 Drag monsters - Frankenstein
The first in a series of famous movie monsters in drag. Looks like Frankie raided his wife's wardrobe.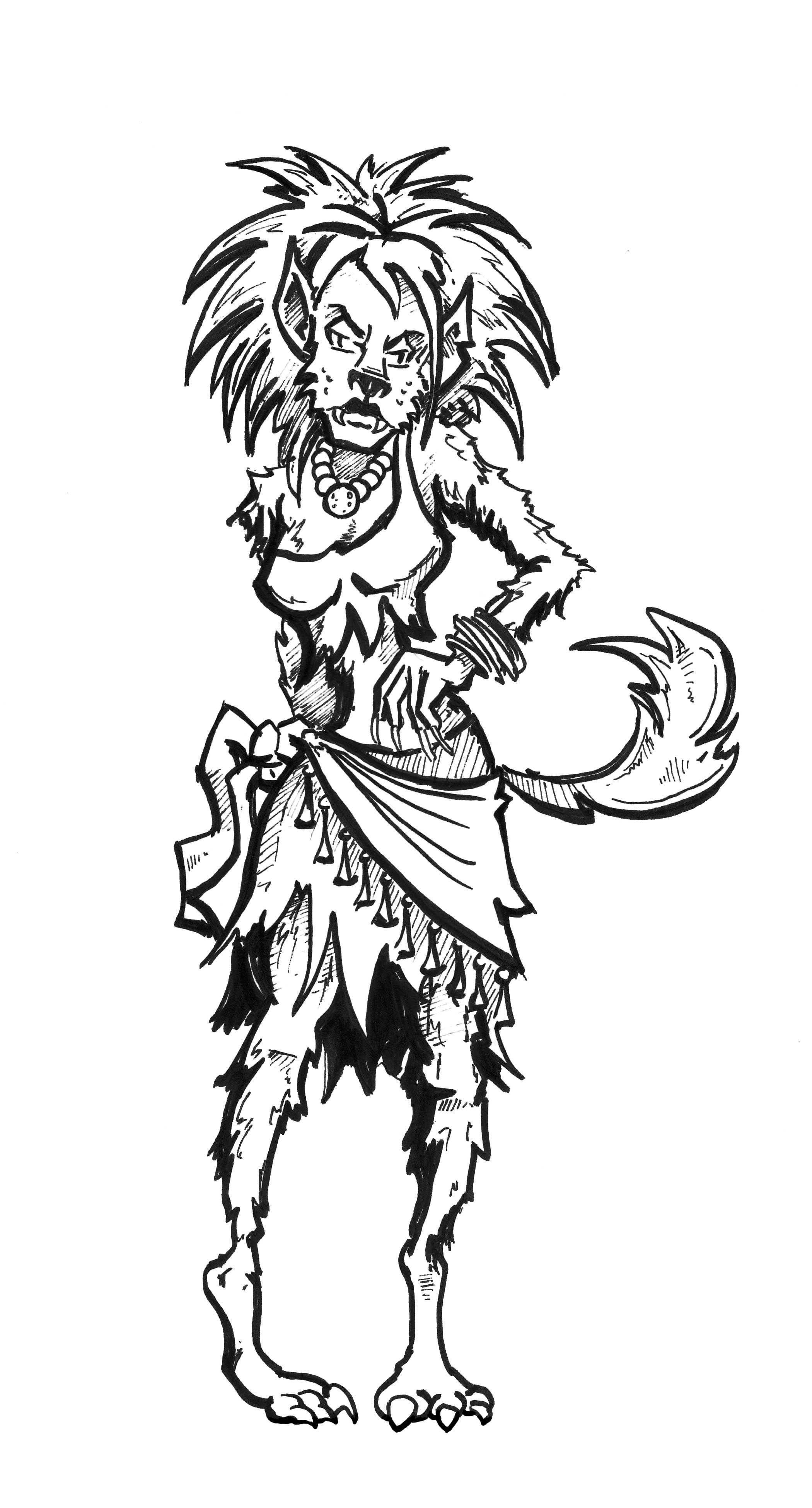 Drag monsters - Wolfman
Another famous movie monster in drag. There's a she wolf in the club tonight.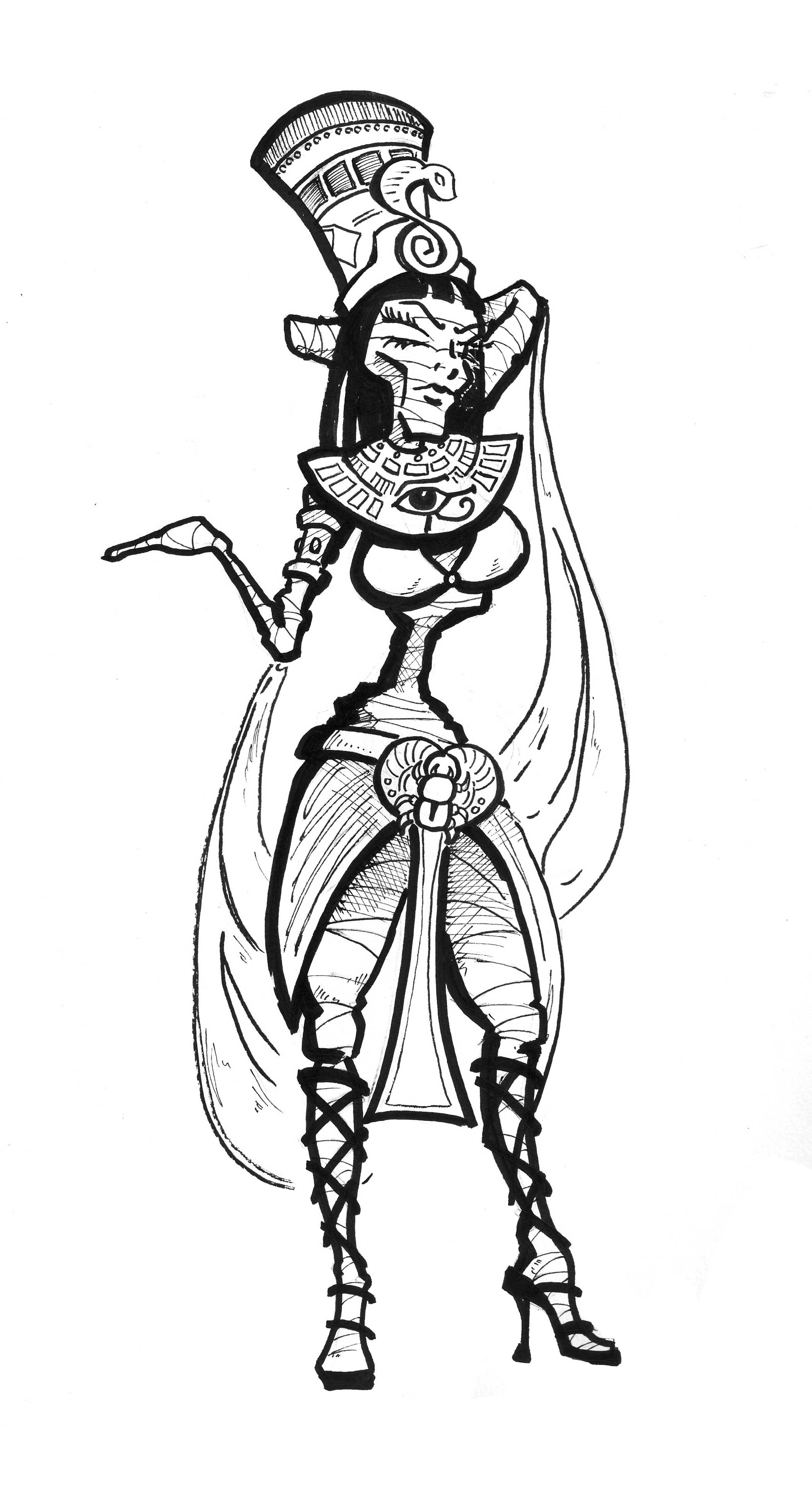 Drag monsters - Mummy
The third in the series. I know drag queens are wrapped up in themselves but this is ridiculous.
Happy Cadaver
Personal illustration
For a while I was trying to make an animated cartoon. I wrote scripts and designed characters and then got as far as designing backgrounds (like this one) before realizing it would take me 600 years to make the thing all by myself.
Gaysian superhero
Commissioned illustration
This was for a flyer for some party or another. They wanted a gay asian dressed as a superhero. Thus all the neon.
Astrology thingie
Commissioned illustration
What happens when a Scorpio marries a Gemini and they want an image for their wedding invitation? You get a really weird Save the Date card. I tried to save it by making the crab vaguely heart shaped.
Monkey King
Personal illustration
You know the story of the Monkey King? If your not Chinese the answer is probably no. I am not Chinese.
Squirrely Bill's Field Manual
Book illustration
This is the cover for Squirrely Bill's Field Manual for Gettin' Around and Such. You can learn more about Squirrely Bill and all of his frontier friends in the Westerly section of the Game page.
Dandelion
Rejected corporate logo
I din't much care for the mascot created for the restaurant I used to manage so I proposed this version instead. It was unceremoniously rejected. See the original here.
Caricature of the boss man
You ever get commissioned to do a corporate caricature of someone five levels above you? No you say? Lucky you. I don't even like doing caricatures. And now they know that I can do them. Poop.
On the moon
Video illustration
Another image that is very hard to explain, but I am going to try: this is my best friend and former president Chester A. Arthur (who is playing a penny whistle) riding an incandescent pony on the surface of the moon. You know.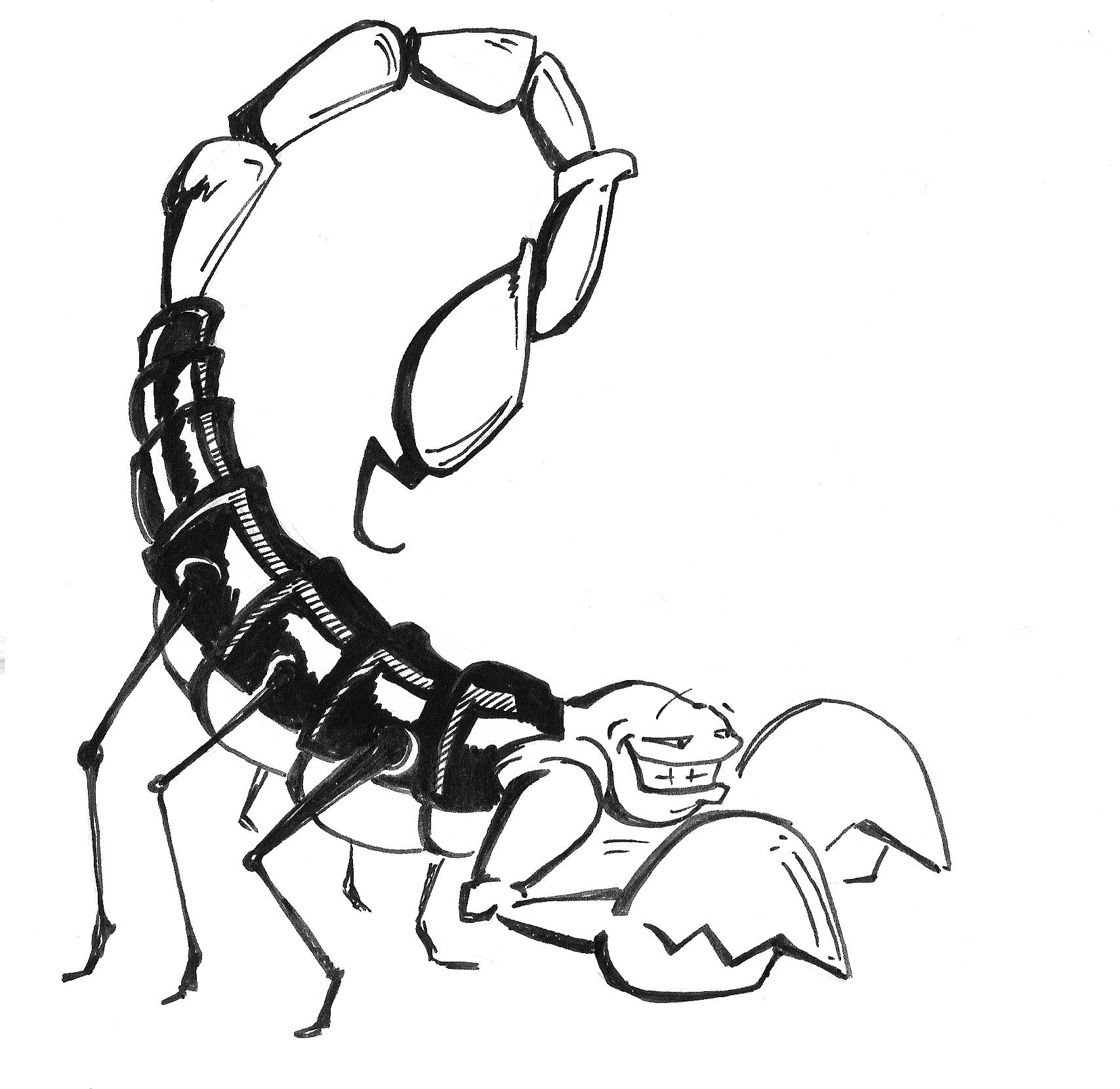 Scorpion
Book illustration
Look at the smile on that fella. How could you not trust him?
The Beauty Machines
Book illustration
It's too much work to try and explain what is going on here, but I wanted to show this one because it has two of my favorite things to draw - skeletons and mechanical clutter.
Carnival Barker
Book illustration
This guy really knows how to sell tickets. The show inside is not kid friendly.
Rat on a Stick
Book illustration
It's a rat. On a stick. I really have nothing more to add to that.
Sushi football
Commissioned illustration
What better way to say Super Bowl party than a big plate of raw fish? This promotion didn't go over so well, but the art came out kind of interesting.
Sushi party
Commissioned illustration
This is another case of design by committee. When everyone gets a say in what you draw they end up getting a gaggle of drunk anthropomorphic nigiri on their New Year's flyer.
Morimoto Flyer
Commissioned illustration
This was for a thank you card from the staff at Morimoto. It's a sushi restaurant. I used to work there, so you'll see lots of work I did for them on here.
The lounge
Commissioned illustration
When it comes to promoting your place of business it's not a good idea to caricature your coworkers. Somebody is bound to take offense. Or in my case, everyone is.
The Haddonfield Monster
Book illustration
The dinosaur skeleton that started the whole paleontology craze. Without him we never would have gotten to see Newman get spit to death by a flappyfaced little monster.
Jacob Marley
Commissioned illustration
One of my favorite ghosts of all time. Probably because of all the chains and the buckled shoes. Sure the Ghost of Christmas Present would be way more fun to go on a pubcrawl with, but this guy is just so interesting to draw.
Vineyard
Personal illustration
This one was gift actually. And yes, the building is pretty much the Winchester Mansion. Now if only I had spelled Vineyard correctly on the sign...
Christmas pub crawl
Commissioned illustration
This is another case of "that's what they asked me to draw" and it came out very nicely, though I feel like I need to apologize to the more pious members of the family. Not for the two of them palling around (cause that's kind of what we want after all) and not for the hole in JC's hand (cause that's a thing that happened) but for the middle finger. Satan, you delightful little scamp.
Super Secretary
Commissioned illustration
Can you draw my secretary? Can you make her look like she is an imposing figure of doom but still smiling? And can you draw the rest of the staff cowering in fear of her? Also shave about 15 years off of all of them.
Sure, no problem.
The bone orchard
Personal illustration
This is a still from that Happy Cadaver show I wanted to make. Turns out these three were just cutting through the cemetery to return their tools to a 24 hour tool rental place. Yuk yuk yuk.
The Clown
Book illustration
All clowns are scary. Especially when they're not trying to be.
Palace Doors
Book illustration
The Countess has very fancy doors in her house. You would think someone who can afford expensive doors like that would look happy, but no.
Chicken Chasing
Book illustration
This gal is having entirely too much fun considering that she's barefoot and chicken coops are basically just big chicken toilets. You do not want to know what happens when she catches it.
Alley Crawl
Book illustration
Again, it's hard to explain how we got here, but by this point in the story a man in a wolf mask is crawling down a fetid alleyway with a unicorn horn embedded in his leg. One of those "I guess you'll just have to read the book" statements.
On the phone
Personal illustration
Once again we find the cast of the Happy Cadaver all blathering overtop of one another while one of them attempts to use the phone. The fact that I drew a phone like that gives you an indication of how old this drawing is.
Kangabloo
Conceptual illustration
When a friend of yours tells you he's written a children's book, what are you supposed to do but offer to help with the illustrations?
Kangabloo 2
Conceptual illustration
This is as far as we got in the story before our minds started wandering off. I think it has something to do with how he paid me. I'll give you a hint - it was green but it wasn't cash.
Organ ization
Commissioned illustration
You know, I have no idea what this one was for. It was part of a rollover ad for a medication of some kind, but what diabolical malady effects the lungs and the sewage line? Maybe it was something that makes farts smell better.
Family Crest
Illustration for illustration's sake
This is my family crest. It would probably look better if had started drawing a little higher up on the page so I didn't lose the bottom of the ribbon.
Introspection
Book illustration
Our main character has a lot to think about. Boy I wish I could show you what some of his problems are, but I don't want to give the whole book away.
Weird fish thing
Commissioned illustration
I think this was for a tattoo. It's some kind of monster fish skeleton day of the dead thing. I don't remember. I was paid for it though, so who cares.
Front Door Smash
Book illustration
Guess the bell wasn't working.
Pair of puppies
Commissioned illustration
I don't just do caricatures of people, I do dog caricatures if people pay me to. That's right, dog caricatures.
NWH boy
Conceptual illustration
For the "Ninjas with Hoodies" clothing line, a brand you've no doubt never heard of because they do not presently exist and never really did.
NWH logos
Conceptual illustration
A stab (chuckle chuckle) at the logo in two different palettes for the ill-fated clothing line that never was.
NWH girl
Conceptual illustration
To compliment the boy ninja character, she was going to be the face of the lady ninja line. In hind sight I should have given her hips.
Wagon Chase
Book illustration
No story is complete without a high-speed chase of some kind. Even if that chase is in horse drawn wagons. It's all relative I guess.
Christmas Carol
Commissioned illustration
Technically this should be under the Design section, but I'm so embarrassed by the font the client insisted on using that I really want to just show it for the Scrooge and Tiny Tim image. I bet Scrooge had the worst old man smell of all time.
Famous characters
For Samuel Sandwich cards
Doc Holliday
Fatty Arbuckle
Queen Victoria
Lief Erikson
Blackbeard
John Phillip Sousa
More famous characters
for Samuel Sandwich cards
P.T. Barnum
Rasputin
Miles Standish
Nicola Tesla
General Burnside
Betsy Ross
Shaka Zulu
Staff caricature
Commissioned illustration
A good way to burn bridges with people is to draw cartoons of them. I don't talk to any of these people anymore
Omakase menu
Commissioned illustration
I swear this is the last thing featuring that culinary cherub from across the sea. At least in this section. Here's a fun fact about chef Morimoto: he has smiled more times in my (somewhat flattering) drawings of him than he has in real life.
DJ
Commissioned illustration
Wickywickywickywicky. Part of a set of characters designed for a hip hop thing. This is the only one that I could find.
Moto portrait
Commissioned painting
This is one of the few times I put my brushes to work in the past few years. I was asked to create a portrait of the chef for his office. I wish I had taken a better picture of it. I should ask them if I go back and rephotograph it but I'm afraid they may have discovered the secret message it contains by now.
illustrations
These things span the many years of my doodling career which is why the style tends to vary. I pulled out some of my favorites though I still have an archive to go through and hunt down more. They are in no particular order because chaos is fun.